International Journal of Intelligent Transportation Systems Research
The Inte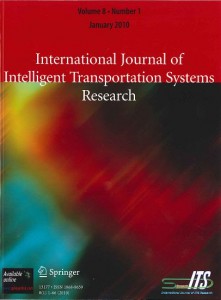 rnational Journal of Intelligent Transportation Systems Research provides a global forum for the discussion of effective solutions for ITS, to meet the needs of the world. It is the only international platform to foster wide-ranging discussion across disciplines by bringing together a broad-based audience for solutions-oriented information and discussion. 
The journal serves a multi-disciplinary set of researchers and specialists in fields ranging from transportation, electrical, mechanical, and traffic engineering, as well as in policy planning, economics, and psychology. It reaches across disciplines to find solutions to the difficult issues surrounding the future transportation system and its impact on society. 
We are delighted to develop further the International Journal of Intelligent Transportation Systems Research in the interest of its contributors and readers, as well as in the interest of a much wider global community. 
Starting 2010, International Journal of Intelligent Transportation Systems Research has become a subscription-based electronic publication, available only on SpringerLink. You will profit from the latest in electronic features and easy online access to the journal.
         ISSN: 1868-8659 (electronic version)   /   ISSN: 1348-8503 (print version)
Call for Papers
You are requested to submit a paper via the Editorial Manager.
There is no specific limit on the number of pages for the papers to be submitted, but, as a general rule, Research Papers and Survey Papers should be a maximum 10 pages, and technical notes, 6 pages.
Paper Formats
When submitting a manuscript in .tex format, please be sure to upload all LaTex support files (e.g., .cls; .sty; .bst; .bib; etc.) along with the main LaTeX file(s) and figure file(s). To ensure that the LaTeX file will compile and convert properly into PDF, please ensure that all files are uploaded as a submission item.
Ethical Principles for Research Involving Human Subjects
Major priority in research involving human subjects is to respect the dignity and right of research subjects and consider the protection of their life, health and safety. It is the duty of researchers to treat personal data and information on the subjects carefully and preserve their privacy. The researchers must always seek the subjects' informed consent for participation in a study. The research protocol in a plan document must be submitted for approval to the concerned ethics committee before the study begins.
Publication fee
No page charges shall be levied on authors, except option services such as "Open Choice" provided by the publisher.
Area covered
Sensor Technology
Imaging, Laser, Induction Coil, Ultrasonic Sensor and Recognition Technology based on the above mentioned technologies.
Communication Technology and ITS Applications
Infrared Beacon, Radio Wave DSRC (Dedicated Short Range Communication), ETC (Electronic Toll Collection System), Navigation System
Vehicle Control and Automated Driving
AHS (Advanced Cruise-Assist Highway System), ACC (Adaptive Cruise Control), Lane-Keep, Automatic Driving, Automatically Operated Bus
Safety Improvement and Human Interface
ASV (Advanced Safety Vehicle), Cruise Assist, Simulator
Traffic Control
Incident Detection System, Traffic Measurement, Signal Control, Accident Management
Traffic Planning
Road Planning, Signal Planning, Traffic Simulation
Urban Engineering
Urban Space Modeling, Urban Planning
Transportation Policy, Traffic Economy
Creation & Improvement of Pertinent Laws and Regulations, TDM (Transportation Demand Management), Road Pricing, Privacy Protection
Environmental Sustainability
Environmental impact reduction, Eco driving, Car sharing and ride sharing, Modal shift
Traffic Psychology
Drivers, Pedestrians and Vulnerable Road Users
Other Applied Technologies
Contact
International Journal of ITS Research
its-journal<at>its-jp.org